(Published in the Fall 2017  issue of Dissent Magazine)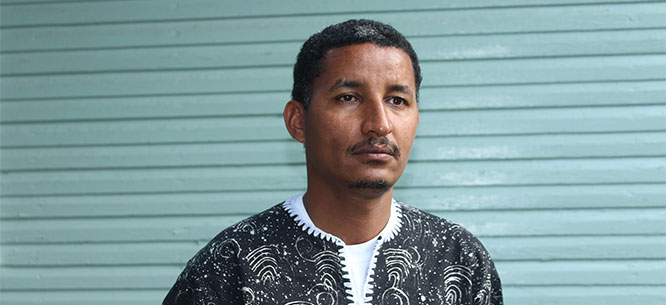 Journalist and writer Abraham T. Zere has been a key figure in raising awareness of human rights violations in Eritrea. Under President Isaias Afwerki, who has been in power since Eritrea declared independence from Ethiopia in 1993, the country has earned the nickname "The North Korea of Africa." The Asian country is the only one to rank below Eritrea in the World Press Freedom Index. In June, a coalition of human rights lawyers, activists, and institutions submitted a joint letter to the UN, urging them to reinstate an investigator to track torture, enforced disappearances, and other violations in the country. Among the signees was the Eritrean office of the literary and free speech advocacy institution PEN, of which Zere is executive director. For the past three years, he has represented a membership that comprises exiled writers and journalists scattered throughout the world. Three of its active members, including Zere, are based in Ohio, where Zere went after escaping the country, and where he is able to safely document the regime's ongoing crimes. Other Eritrean journalists, who make up a sizeable number of the country's many political prisoners, are not so lucky.
As a fiction writer, Zere's expatriation has also allowed him to fine-tune a particularly poignant style of satire. His story "The Flagellates," is exemplary. Set in one of Eritrea's infamous underground prisons where torture and cruelty are commonplace, "The Flagellates" concerns a new "benevolent" prison commander who attempts to have a civil discussion with the inmates on how they prefer to receive their requisite lashes. The ensuing Life of Brian-like hysterics offer an unnerving consideration of Eritrea's present-day prison conditions.
—Michael Barron